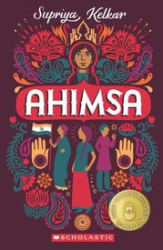 Ahimsa (Hardcover)
2 Views
|
Verified on 17/06/2019
Product details:
About The Book
Can one girl make a difference in the destiny of a nation?
It is 1942 and 10-year-old Anjali s mother has joined India s freedom struggle.
Anjali gets unwillingly involved in the turmoil. She has to give up her biasesagainst the Dalit community, or the so-called untouchables, and sacrifice her foreign-made clothes for khadi. When her world turns upside down, will Anjali be able to overcome her internal struggles and summon the courage needed to complete her mother s social reform work?
Inspired by her great-grandmother s experience working with Gandhi,Supriya Kelkar brings to life the stories of the unsung heroes of India s Warof Independence.
About The Author

Born and raised in the Midwest, Supriya Kelkar learned Hindi as a child by watching three Bollywood films a week. Now she works in the film industry as a Bollywood screenwriter. She has credits on one Hollywood film and several Hindi films.
Ahimsa, inspired by her great-grandmother s role in the Indian freedom movement, is her debut middle grade novel.
Learn more at supriyakelkar.com.