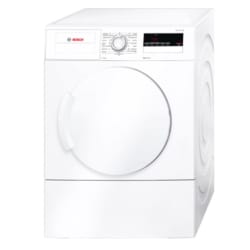 Bosch WTA74201IN 7KG Tumble Dryer
Views
|
Verified on 22/07/2019
Fully Electronic
LED Display
Sensitive Drying
Anti-Vibration Design
Flexible Exhaust-Air Duct
Child-Proof Lock
Reload Function
Product details:
Have your dryer always running at maximum performance and peak efficiency with the SelfCleaning Condenser
Sensitive Drying system saves energy and ensures that your laundry is dry and intact
Duo-Tronic saves energy by automatically stopping the drying process once it s complete
AntiVibration Design provides more stability and reduces vibration so noise is minimised
Display for time remaining: you always know when your laundry will be dry.
Low noise level and minimal vibration, thanks to our AntiVibration Design.
Now sleep peacefully at night while your washing machine works without much noise. The AntiVibration Design of Bosch washing machines reduce vibrations during the spin cycle and are designed to ensure the machine does not shake when in action.
Fabric-friendly drying with the soft Drying System.
Worried that your delicate fabric will get spoilt due to overheating? Don't worry, there is a solution. This feature will reduce the drying temperature and increase the cycle time to make sure you get perfectly dry clothes without hurting the fabric.
Category Type
Construction
Display Features
Functional Features
Mobile Height
Kitchen Appliance Weight
| | |
| --- | --- |
| Weight | 33.0 kg (Net Weight) |
Mobile Depth
Electrical Features
Mobile Phone Width
Automatic Features
Capacity
Drying Capacity
| | |
| --- | --- |
| Dry capacity (kg) | 7 |
| Dry capacity (%) | 80 |
Main Product Features
DISCLAIMER
Product will be delivered for all urban areas serviceable by major courier agencies.For remote / rural areas the product will be sent by local couriers and may take little more time.
No Deliveries on Sunday and National Holidays.