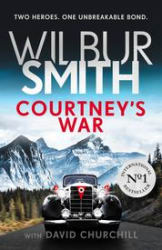 Courtney s War (Paperback)
2 Views
|
Verified on 17/06/2019
Product details:
About The Book
The brand-new Courtney Series novel, and the much-anticipated sequel to the global bestseller WAR CRY
Torn apart by war, Saffron Courtney and Gerhard von Meerbach are thousands of miles apart, both struggling for their lives.
Gerhard - despite his objections to the Nazi regime - is fighting for the Fatherland, hoping to one day have the opportunity to rid Germany of Hitler and his cronies. But as his unit is throw n into the hellish attrition of the Battle of Stalingrad, he knows his chances of survival are dwindling by the day.
Meanwhile Saffron - recruited by the Special Operations Executive and sent to occupied Belgium to discover how the Nazis have infiltrated SOE s network - soon finds herself being hunted by Germany s most ruthless spymaster.
Confronted by evil beyond their worst imaginings, the lovers must each make the hardest choice of all: sacrifice themselves, or do whatever they can to survive, hoping that one day they will be reunited.
Courtney s War is an epic story of courage, betrayal and undying love that takes the reader to the very heart of a world at war.
About The Author
Wilbur Smith is a worldwide phenomenon. His readership has built up over fifty-five years of writing.
Born in Central Africa in 1933, Wilbur became a full-time writer in 1964 following the success of When the Lion Feeds, and has since published forty-one global bestsellers, including the Courtney Series, the Ballantyne Series, the Egyptian Series, the Hector Cross Series and many successful standalone novels, all meticulously researched on his numerous expeditions worldwide.
The establishment of the Wilbur & Niso Smith Foundation in 2015 cemented Wilbur s passion for empowering writers, promoting literacy and advancing adventure writing as a genre. The foundation s flagship programme is the Wilbur Smith Adventure Writing Prize.