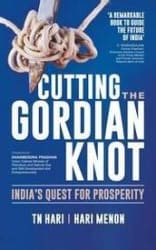 Cutting the Gordian Knot (Paperback)
2 Views
|
Verified on 17/06/2019
Product details:
About The Book
Cutting the Gordian Knot discusses India s quest for prosperity through job creation.The underlying pieces of this quest are complex and intertwined-an education systemthat has outlived its shelf life with misplaced aspiration for white-collared jobs. India goteducated before it got skilled. Skilling along with micro-entrepreneurship needs to berejuvenated. Rapid developments in technology are changing the nature of jobs andemployment itself. We are living in truly interesting times. The country s youth bulgemakes it one of the youngest nations in the world. A youthful demographic profile isnecessary but not a sufficient condition for economic growth. It needs to be harnessedwell. Some miscalculations and wrong moves could very easily transform ademographic dividend to a recipe for mass discontent.
The country has a long way to go, and global disruptions due to rapidly changingtechnologies are creating hazards on the way. New ways will have to be found, anddominant narratives will have to be challenged. The book presents these views, dataand insights with an intent to spark dialogue, awareness and, eventually, change.
About The Author
TN Hari is an advisor and mentor to numerous young entrepreneurs and startups. He isalso a Strategic Advisor at Fundamentum , which is a homegrown growth phase VCfund set up by Nandan Nilekani and Sanjeev Aggarwal. Hari also heads HR atBigBasket.
He has studied at IIT & IIM and worked at an executive level with multiple start-ups/scale-ups and has been through four successful exits in different industries(Daksh, Virtusa, Amba Research, TaxiForSure).
His passion is in scaling organizations through clear thinking and relentless execution.He writes regularly on LinkedIn and has a substantial following. LinkedIn identified himas the one of the Top 10 Voices in India in 2016 and 2017.
He has Co-authored two books. The recent one, published by Penguin, is titled \"Cut theCrap and Jargon - Lessons from the Startup Trenches\".
Hari Menon is the Cofounder and CEO of Bigbasket, India s largest onlinesupermarket.
Starting his career with ORG Systems, Hari subsequently moving on to work with TVSElectronics, Wipro Infotech, Planetasia and Integrated Data Systems.