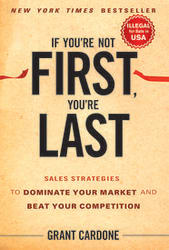 If You re Not First, You re Last (Hardcover)
3 Views
|
Verified on 24/06/2019
Product details:
About The Book
International sales expert Grant Cardone shares his proven strategies to boost sales, increase margins, and create profits-even in the toughest of economic climates.
During economic contractions, it becomes much more difficult to sell your products, maintain your customer base, and gain market share. Mistakes become more costly, and failure becomes a real possibility for all those who are not able to make the transition.
But imagine being able to sell your products when others cannot, being able to take market share from your competitors, and knowing the precise formulas that would allow you to expand your sales while others make excuses.
In If You re Not First, You re Last, international sales expert Grant Cardone explains how to sell your products and services-despite the economy-and provides you with ways to capitalize regardless of your product, service, or idea. His proven strategies will allow you to not just continue to sell, but create new products, increase margins, gain market share and much more. Key concepts in If You re Not First, You re Last include:
*Converting the Unsold to Sold
*The Power Schedule to Maximize Sales
*Your Freedom Financial Plan
*The Unreasonable Selling Attitude
About The Author
Grant Cardone is an international sales expert, sales trainer, motivational speaker, and author. He is a regular guest on Fox TV, a weekly contributor for The Huffington Post, and has written articles for many other major sites. He has created three multimillion-dollar companies: Cardone Training Technologies in Los Angeles; the online virtual sales training site at www.virtualsalestraining.com; and The Cardone Group in Orlando, Florida. Grant currently lives in Hollywood, California, with his wife and daughter.