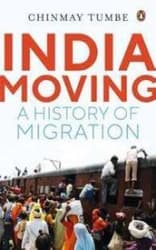 India Moving (Hardcover)
3 Views
|
Verified on 16/06/2019
Product details:
About The Book
A little bit of India too moves with every migrant. From adventure toindenture, martyrs to merchants, Partition to plantation, from Kashmir toKerala, Japan to Jamaica and beyond, India Moving is the first book to mapout the great migrations that have made the country and the world a morediverse place to live in. To understand how millions of people have moved-from and to India-the book embarks on a journey laced with evidence,argument and wit, providing insights into topics like the slave trade andthe migrations of workers, travelling business communities such as theMarwaris, Gujaratis and Chettiars, refugee crises like the Partition, and theroots of contemporary mass migration from Bihar and Kerala, covering aterrain that often includes seemingly unrelated topics like mangoes, dosasand pressure cookers.
India Moving shows the scale and variety of Indian migrations and arguesthat greater mobility is a prerequisite for maintaining the country spluralistic traditions.
About The Author
Chinmay Tumbe loves to laugh and learn. He is passionate about migration,cities, firms and history, and is currently a faculty member at the IndianInstitute of Management Ahmedabad. An alumnus of the London Schoolof Economics and Political Science, the Indian Institute of ManagementBangalore, the Ruia College in Mumbai and Rishi Valley School, he hasbeen a faculty member at Tata Institute of Social Sciences in Hyderabad,a 2013 Jean Monnet Fellow at the Migration Policy Centre, EuropeanUniversity Institute, in Florence, and the 2018 Alfred D. Chandler JuniorInternational Visiting Scholar in Business History at the Harvard BusinessSchool. He has published widely on migration for a decade and also servedon policymaking groups. India Moving is his first book.