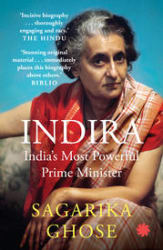 Indira (Paperback)
1 Views
|
Verified on 24/06/2019
Product details:
About The Book
Indira Gandhi is fondly remembered as the Durga who won India its first decisive military victory in centuries and the strong stateswoman who had the courage to look American bullying in the eye and not blink. Equally, she is remembered as the terrible dictator who imposed the Emergency and tried to destroy institutions ranging fromher own party to the judiciary. This no-holds-barred biographical portrait looks for answers to lingering issues:
from Sanjay Gandhi s curious grip over her to her bad marriage and love affairs, and her dangerous religiouspolitics. This is the only book you need to read aboutIndira.
An incisive biography which is rich in detail, thoroughly engaging and racy. Indira Gandhi may have actually approved of it. The Hindu Stunning original material which immediately place[s] this biography above others. Biblio
Lucid and eminently readable . . . even-handed in acknowledging sterling achievements but being unsparing in criticism. Indian Express
About The Author
Sagarika Ghose is a senior journalist, columnist and broadcaster. She is the author of two novels, The Gin Drinkers and Blind Faith.