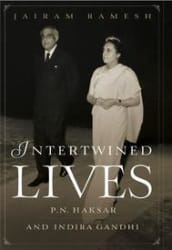 Intertwined Lives: P. N. Haksar And Indira Gandhi (Hardcover)
0 Views
|
Verified on 16/06/2019
Product details:
About The Book
This is the first full-length biography of arguably India s most influentialand powerful civil servant: P.N. Haksar, Indira Gandhi s alter ego duringher period of glory.
Educated in the sciences and trained in law, Haksar was a diplomat byprofession and a communist-turned-democratic socialist by conviction. Hehad known Indira Gandhi from their student days in London in thelate-1930s, even though family links predated this friendship. They kept intouch, and in May 1967, she plucked him out of his diplomatic career andappointed him secretary in the prime minister s Secretariat. This is when heemerged as her ideological beacon and moral compass, playing a pivotalrole in her much-heralded achievements including the nationalization ofbanks, abolition of privy purses and princely privileges, the Indo-SovietTreaty, the creation of Bangladesh, rapprochement with Sheikh Abdullah,the Simla and New Delhi Agreements with Pakistan, the emergence of thecountry as an agricultural, space and nuclear power and, later, theintegration of Sikkim with India.
This power and influence notwithstanding, Haksar chose to walk away fromIndira Gandhi in January 1973. She, however, persuaded him to soonreturn, first as her special envoy and later as deputy chairman of thePlanning Commission where he left his distinctive imprint. Exitinggovernment once and for all in May 1977, he then continued to beassociated with a number of academic institutions and became the patronfor various national causes like protecting India s secular traditions,propagating of a scientific temper, strengthening the public sector anddeepening technological self-reliance. Successive prime ministers soughthis counsel and in May 1987, he initiated the reconstruction of India srelations with China. He remained an unrepentant Marxist and one ofIndia s most respected elder statesman and leading public figures till hisdeath in November 1998.
Drawing on Haksar s extensive archives of official papers, memos, notesand letters, Jairam Ramesh presents a compelling chronicle of the life andtimes of a truly remarkable personality who decisively shaped the nation spolitical and economic history in the 1960s and 1970s that continues tohave relevance for today s India as well. Written in Ramesh s inimitablestyle, this work of formidable scholarship brings to life a man who is fastbecoming a victim of collective amnesia.
About The Author
JAIRAM RAMESH is a member of Parliament since 2004 and hasbeen a union minister between 2006 and 2014. He is the author of anumber of acclaimed works including Indira Gandhi: A Life inNature (2017), Old History, New Geography: Bifurcating AndhraPradesh (2016), To the Brink and Back: India s 1991 Story (2015),Legislating for Justice: The 2013 Land Acquisition Law (2015),Green Signals: Ecology, Growth and Democracy in India (2015),Making Sense of Chindia: Reflections on China and India (2005)and others. Before becoming a politician, he worked in variouscapacities in the Government of India including the prime minister soffice, Ministry of Finance, Planning Commission and Ministry ofIndustry.