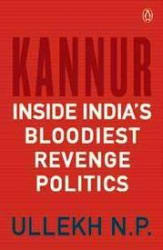 Kannur (Hardcover)
3 Views
|
Verified on 24/06/2019
Product details:
About The Book
Kannur, a sleepy coastal district in the scenic south Indian state of Kerala,has metamorphosed into a hotbed of political bloodshed in the past fewdecades. Even as India heaves into the age of technology and economicgrowth, the town has been making it to the national news for horrific crimesand brutal murders with sickening regularity.
What makes this region so susceptible to vendetta politics and suchdeadly violence? How is it an anomaly in Kerala, the state with the highestsocial development parameters in India? Born in Kannur and brought upamidst some of the tallest political leaders of the state, author Ullekh N.P.delves into his personal experiences while drawing a modern-day graphthat charts out the reasons, motivations and the local lore behind theturmoil. He analyses the numbers that lay bare the truth behind the hype,studies the area s political and cultural heritage, and speaks to the mainprotagonists and victims. With his journalistic skills and years of on-the-field reporting, he paints a gripping narrative of the ongoing bloodbath andthe perceptions around it.
Ullekh s investigations and interviews reveal a bigger game at workinvolving players who will stop at nothing to win.