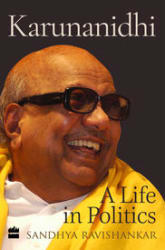 Karunanidhi: A Life in Politics (Hardcover)
1 Views
|
Verified on 24/06/2019
Product details:
About The Book
Wearing his characteristic dark glasses and draped in a yellow shawl, M. Karunanidhi has been a pillar of Tamil and Indian politics for more than six decades. He has been the leader of the Dravida Munnetra Kazhagam since 1969 and the Chief Minister of Tamil Nadu five times. With the death of J. Jayalalithaa, he is the undisputed tallest leader in the state even though his party is not in power and he is in poor health at the age of ninety-five.
Karunanidhi s contributions to state and national life are many. He is known for pioneering several social justice and welfare schemes, as also for championing the causes of Dravidian identity and Tamil language and culture. The DMK under him was a crucial ally of the Congress and a constituent of the UPA. At the same time, he has also been embroiled in several controversies, including his party s alleged support for the LTTE, which assassinated former prime minister Rajiv Gandhi in 1991, and the involvement of ministers from his party in the 2G spectrum scam.
Karunanidhi: A Life in Politics chronicles the trailblazing life of one of India s most important politicians for the first time in English.
About The Author
Sandhya Ravishankar is an independent political and investigative journalist based in Chennai. She has worked at Times Now, CNN News18 and CNBC-TV18. She was part of the launch team at ET Now and Puthiya Thalaimurai Tamil news channels. She writes for the Guardian and Al Jazeera Online and is a regular contributor for the Economic Times, Hindustan Times, Hindu, Wire.in and Scroll.in.