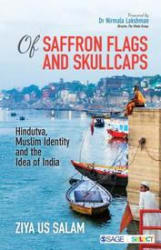 Of Saffron Flags and Skullcaps: Hindutva, Muslim Identity and the Idea of India (Paperback)
0 Views
|
Verified on 17/06/2019
Product details:
About The Book
We live in an age when most Muslims take pride in singing Saare Jahan Se Achcha, penned by Muhammad Iqbal. Many though have forgotten that the same poet-philosopher called Ram as Imam-e-Hind. The Hindutva forces, meanwhile, have forgotten the unifying Saare Jahan Se Achcha in their pursuit of divisive nationalism. Their exclusionary politics stems from a mindset of self-limiting segregation: a world of we and they , a world where a Muslim man is lynched for refusing to say Vande Mataram .
Of Saffron Flags and Skullcaps attempts to trace the growth of the Hindutva ideology from the time of V.D. Savarkar and M.S. Golwalkar to the contemporary age, and how it precedes any talk of Muslim appeasement. Faced with these existential challenges, the Muslim community is involved in simultaneous churning within where the words of Islamic scholar and teacher Farhat Hashmi are bringing about a silent change at the grassroots level. Amidst all the challenges, the idea of India, often challenged, continues to show the way to a nation looking for direction.
Table Of Contents
Foreword by Dr Nirmala Lakshman
Preface
Acknowledgements
PART 1: HINDUTVA
The Idea of a Hindu Nation
Hindutva and Hindu Nationalism
Hindutva Precedes Appeasement
URA: Hindutva and Hind Swaraj
Hindutva and Women
Hindutva and Dalits
Rediscovering National Icons
Integrating Sardar Patel
Appropriating Bhagat Singh
Co-opting Dr Ambedkar
Pandit Deendayal Upadhyay: Not Quite an Icon
Madan Mohan Malaviya: Early Hindu Nationalist
Understanding RSS and Fringe Elements
RSS and Nationalism
RSS and the Tricolour
The Myth of the Holy Cow
Cow Protection Movement
Gaurakshini Samitis Turn Senas
Raksha Dals, Then and Now
Majoritarianism and Nationalism
Nation from the Historical Lens
M S Golwalkar and Irfan Habib
Conflict and Conciliation: Bipan Chandra s World
Babur Nama
Gopal Gandhi s Dara Shukoh
Akbar as the New Age Aurangzeb
Revisiting Aurangzeb
PART 2: MUSLIM IDENTITY
Being Muslim
I Am the Other
The Other as the New Normal
The First Muslim
Extraordinary Tales of Muslim Women
Not Easy Being a Muslim
Muslims in Indian Cities
Muslims of Delhi and Jammu
Jamaat and Religion
Jamiat Ulama-e-Hind
A Muslim Leader Against Partition
Jamaat-e-Islami Hind
Tablighi Jamaat
Sufism: Is It Islam?
Aslam Parvaiz: One-man Movement
Jihad and Ijtihad
Fatwa on Terrorism
Islam and Practices
Triple Talaq and Khula
Women s Right to Divorce
A Woman Leads Friday Prayers
Muslim Women and Masjid
Night of the New Moon
Madrasas and Farhat Hashmi
Conversion and Reconversion
Not Being the Other
Noor Zaheer s Heresy on Hearsay
Of Peace and War
A Mockery of Satire
PART 3: THE IDEA OF INDIA
Everybody an Immigrant
Innocent Acquitted, but How?
Once Framed for Terrorism, Now a Symbol of Nationalism
A Humanist Despite Being Called a Terrorist
Hashimpura: Chak De! India
Sir Mohammed Iqbal
Rearming Hinduism
Reality of Conversions
Uniform Civil Code
Age-old Glue: Commonalities in Faith
India for Indians
References
About The Author
Ziya Us Salam is a noted literary and social commentator. He has been associated with The Hindu for the past 18 years. He has been The Hindu s Features Editor for North India editions for 16 years. At present, he is Associate Editor, Frontline, and writes on sociocultural issues for the magazine besides doing book reviews.
His book Till Talaq Do Us Part, a study of various divorce options available in Islam, was released in early 2018. His book Delhi 4 Shows, a study of cinemas since the talkie era began, was released in 2016. He has contributed to the following anthologies: Being Young in the Worlds of Islam and Past Tense-Living on the Edge. He has edited an anthology titled House Full: The Golden Age of Hindi Cinema. He was a jury member of the International Film Festival of India (non-feature film, 2011), Best Writing on Cinema (2008) and Vatavaran. His book 365 Tales from Islam will be out shortly.