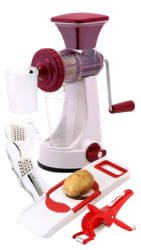 Premium 100% ABS 6 in 1 Slicer & Shredder 2 in 1 Veg Cutter Hand Juicer with Waste Collector and Stainless Steel Mash
Views
|
Verified on 15/07/2019
Use promocode - BUY25. Get 25% Cashback Maximum Upto Rs.5000.
Use promocode - MALLMOVIE500. Get 2 Movie Vouchers of Rs.250 each
Use promocode - MALLRECHG200. Get 2 Mobile Recharge Vouchers of Rs.100 each
Use promocode - BIJLIBILL200. Get Electricity Voucher worth Rs.200
Highlights
Brand - Skyline Enterprise
Color - Assorted
Manufacturer - Skyline Enterprise
1)Best Combo Of Fruit & Vegetable Premium Manual Hand Juicer Mixer:- Not only can you juice wheat grass;you can also enjoy fresh nutritious juice from a variety of fruits;vegetables and leafy greens. Its unique single-auger juicer design uses an extremely gentle and efficient process to extract more high-quality juice from all of your favorite fruits and vegetables without electrical power. Most people know about the extensive health benefits of juicing;but nobody enjoys the process of setting up the juicer and worst of all;cleaning up afterwards. The Healthy Juicer is a rugged;efficient;and best of all - easy to use and clean type juicer!2)Multi Veg Cutter like Chilly Cutter;Banana Cutter;carrot;Radish;Green Turmeric;Okra;Ladyfinger cutter etc : - Multipurpose veg cutter with peeler very handy tool at kitchen. It has the dimension of 7 cms x 6 cms x 21 cms.Vegetable and fruit multi cutter with Peeler with Extra sharp Stainless Steel blades Just keep the vegetables or furits insidet the blade and Pres like stapler to cut the veg in seconds With peeler attacahe to Clean the Skinc Safety locker to lock when not in use Ideal for Chilly Banaana Carrot radish green turmeric okra ladyfinger tindora etc.3) 6 in 1 Veg. & Fruit Slicer & Grater Multi-Purpose Slicer :- Multifunctional and Easy to Use Add the House of Quirk 6 Piece Slice and Dicer Set to your kitchen space and get all your food preparation requirements sorted.
Product details:
Brand - Skyline Enterprise
Product Code - HOMPREMIUM-100-MACA7530047081BA7
Key Features 1 - Having a vaccum base;makes the product efficience very high. Also easy to hold and handle
Color - Assorted
Type - Manual
Material - Plastic
Design - Plain
Set Content Detail - 1 Hand Juicer (Waste collector glass;Juice Glass;Steel Handle;Pusher;Vaccum ) 6 in 1 Slicer (06 Blades;01 main Body );2 in 1 Premium Vegetable Cutter
Disclaimer - Product maybe vary dueto upon availabilty
Warranty Summary - There is no warranty offered with this product
Warranty Type - No Warranty
Covered In Warranty - Not Applicable
Not Covered In Warranty - Not Applicable
Return Policy - 7 Days Return Policy - Return is accepted by the seller within 7 days of delivery, only if goods are damaged. In case of wrong, missing or undelivered product, please highlight the issue within the 2 days of delivery. Cancellation allowed.