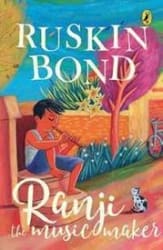 Ranji the Music Maker (Paperback)
2 Views
|
Verified on 16/06/2019
Product details:
About The Book
Was this what it was like to be a rock star? Except that pop singers wereusually followed by people, not cats.
In the middle of his languid holiday, idle young Ranji stumbles uponassorted musical instruments in the storeroom-first a shrill flute, thena blaring little trumpet and, finally, a too-big drum that may have oncesounded a battle march. He stages impromptu concerts down the road,not sparing his neighbours, nor the cats around his porch, nor the peace-loving inhabitants of the zoo! But all Ranji s really seeking is a friend who llhear the magic in his din. Lyrical and stunningly illustrated, this is a sunnystory of forging bonds and the simple joys from India s favourite teller oftales.
About The Author
Born in Kasauli in 1934, Ruskin Bond grew up in Jamnagar, Dehradun, NewDelhi and Simla. His first novel, The Room on the Roof, written when hewas seventeen, received the John Llewellyn Rhys Memorial Prize in 1957.
Since then he has written over 500 short stories, essays and novellas andmore than forty books for children. He received the Sahitya Akademi Awardfor English writing in India in 1992, the Padma Shri in 1999 and the PadmaBhushan in 2014. He lives in Landour, Mussoorie, with his extended family.