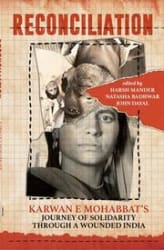 Reconciliations (Paperback)
0 Views
|
Verified on 17/06/2019
Product details:
About The Book
In September 2017, a group of volunteers got together to journey across eightstates in the Karwan Mohabbat, or a Caravan of Love. It was a call of con-science to seek out and support families whose loved ones had become victimsof hate attacks and lynching. Citizens reached out to the bereaved to offersolidarity and support and resist further marginalisation of the oppressed.Some of the travellers share their experiences in this searing but compassion-ate account of how hate violence is tearing apart communities, destroyingfamilies and, in the end, threatening the idea of India itself.
About The Author
Harsh Mander is a human rights activist and author of Looking Away, Un-heard Voices and Fractured Freedom.
Natasha Badhwar is a journalist and author of My Daughter s Mum.
John Dayal is a human rights and political activist.