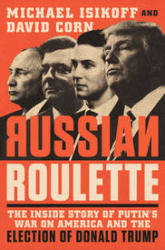 Russian Roulette (Paperback)
2 Views
|
Verified on 17/06/2019
Product details:
About The Book
RUSSIAN ROULETTE is a story of political skull duggery unprecedented in American history. It weaves together tales of international intrigue, cyber espionage, and superpower rivalry. After U.S.-Russia relations soured, as Vladimir Putin moved to reassert Russian strength on the global stage, Moscow trained its best hackers on U.S. political targets and exploited WikiLeaks to disseminate information that could affect the 2016 campaign.
The Russians were wildly successful, and the great break-in of 2016 was no \"third rate burglary.\" It was far more sophisticated and sinister-a brazen act of political espionage designed to interfere with the election. At the end of the day, Trump, the candidate who pursued business deals with Russia, won. And millions of Americans were left wondering what the hell happened?
This gripping and behind-the-scenes story of high-tech spying and political crisis will take the reader inside the White House, the Kremlin, the U.S. intelligence community, the Trump and Clinton campaigns, and both political parties. It will chronicle the strange relationship between Trump and Putin and the ties between Trump s inner circle-including Paul Manafort, Donald Trump Jr., Michael Flynn, and Jared Kushner-and the Russians.
About The Author
MICHAEL ISIKOFF is an American investigative journalist, who has worked for the Washington Post, Newsweek, and NBC News. He is the author of two New York Times best-sellers, Uncovering Clinton: A Reporter s Story and Hubris: The Inside Story of Spin, Scandal and the Selling of the Iraq War (co-written with David Corn.) He is a frequent guest on MSNBC, CNN, and other TV talk shows. Isikoff currently is chief investigative correspondent for Yahoo News.
DAVID CORN is a veteran Washington journalist and political commentator. He is the Washington bureau chief for Mother Jones magazine and an analyst for MSNBC. He is the author of three New York Times bestsellers, including Showdown: The Inside Story of How Obama Battled the GOP To Set Up the 2012 Election and Hubris: The Inside Story of Spin, Scandal, and the Selling of the Iraq War (co-written with Michael Isikoff). He is also the author of the Blond Ghost: Ted Shackley and the CIA s Crusades and the novel Deep Background.