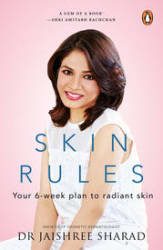 Skin Rules: Your 6- Week Plan to Radiant Skin (Paperback)
2 Views
|
Verified on 16/06/2019
Product details:
About The Book
What if you could achieve glowing skin in just six weeks?
Sounds unbelievable, but it s true!
In Skin Rules, Dr Jaishree Sharad, one of India s top cosmetic dermatologists, gives you a revolutionary six-week plan to healthy, blemish-free skin.
From the basics-identifying your skin type, acquainting yourself with the fine print on labels-to home remedies, choosing the right make-up and the latestadvancements in skincare treatments, this book has the answers to all your skin woes.
You d be amazed at what a short, six-week routine can do for your skin. So what are you waiting for?
About The Author
DR JAISHREE SHARAD is India s leading celebrity cosmetic dermatologist whohas been practising for nineteen years. She is the only Indian on the board ofdirectors of the International Society of Dermatologic and Aesthetic Surgery.
She is also the international mentor of the American Society of DermatologicSurgery. She is the medical director of Skinfiniti Aesthetic Skin and Laser Clinicin Mumbai. This is her second book.