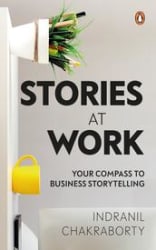 Stories at Work: Your Compass to Business Storytelling (Hardcover)
3 Views
|
Verified on 17/06/2019
Product details:
About The Book
Have you ever wished that people would remember your message days after you sent it to them?
Have you ever struggled to drive change in your organization?
Have you ever wondered if there was a better way to change people s minds instead of just pushing data and analysis?
Have you ever wanted to find a way to make the numbers you present more interesting and impactful?
Stories are the answer to all of the above. Storytelling in business is different from telling stories in a bar. Stories in business need to be based on facts. This book will teach you how to wrap your stories in context and deliver them with emotion.
Using tools, techniques and structures, Stories at Work helps the storyteller in each of us to bring the power of stories to our day-to-day business communication, helping us connect, engage and inspire, besides ensuring that everything we share has a lasting impression on our listeners.
About The Author
Two decades of experience in leading teams and driving change at Unilever, Tata Group, and Mahindra & Mahindra. A love for stories. The entrepreneurial bug. Indranil combined these three qualities to pioneer business storytelling in India. His firm, StoryWorks, helps organizations and leaders harness the power of stories to create and deliver impactful messages. Despite a left-brained upbringing of computer science engineering and business management, Indranil believes that all of us have a fertile but underutilized right brain. Combining both the brains is what storytelling does. Over the last five years, using the same approach outlined in Stories at Work, he has trained over 1500 senior leaders in over thirty reputed organisations, teaching them to seamlessly use both the left and right brain to be more impactful in their communication.