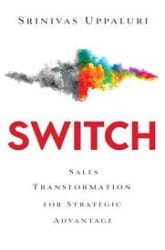 Switch: Sales Transformation for Strategic Advantage (Hardcover)
1 Views
|
Verified on 24/06/2019
Product details:
About The Book
Selling ice to Eskimos has always been cited as the role model for all sales persons. With the mindset of meeting targets at all costs, approaches to sales tend to be desperate, aggressive, and highly intrusive. Sales management continues to give precedence to effort over effectiveness and to near-term over long-term gains and tends to blame the sales persons for lack of success.
Customer-centricity is at the heart of transforming the sales effectiveness of any organisation. Switch is focused on business-to-business sales transformation and promotes customer success as the key to the company s success. Is your time of targeting in the customer s best interest? How can you nurture the customer so that they are ready for your products and services? How will you deliver new value that the customer is not aware of and how do you support them in their decision-making? These are some of the concepts covered in this book.
The approaches have been shared in fictional short story form and summarised through a section entitled Insight at the end of each story. The stories address three different dimensions that need to be addressed to transform any organisation s sales: transformation of attitude and approach to customer, transformation of engagement with the customer and transformation of the management of sales process.
About The Author
Srinivas Uppaluri (Srini) comes with over 27 years of experience of working closely with top managements of various companies in addressing strategic and operational issues. He was Global Head of Marketing at Infosys. Srini also spent around fifteen years as a Management Consultant as a part of the leadership at Andersen Business Consulting and Price Waterhouse Coopers. Currently, Srini is an advisor and mentor to some select companies on strategy, marketing, brand and leadership building.