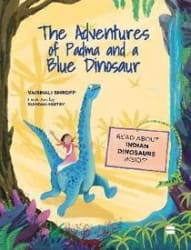 The Adventures of Padma and a Blue Dinosaur (Paperback)
2 Views
|
Verified on 17/06/2019
Product details:
About The Book
A young girl called Padma and her grandmother, Labhuben, discover that the flatland their cows
graze on is not just any ordinary flatland, but home to the dinosaurs that lived in India more than
66 million years ago. Padma s uncle, who she fondly refers to as Rock Uncle, is a dinosaur expert,
and reveals many secrets about their hometown, Rahioli, and even gifts her one of his most prized discoveries - a beautiful dinosaur egg. As Padma takes the egg home, little does she realize that she would soon be setting off on the adventure of her life that takes them along the Narmada in the company of a blue dinosaur!
In an exciting mix of fiction and non-fiction, this book also contains details, curious facts and insights about the dinosaurs discovered in India!
It includes:
Invaluable inputs from renowned Palaeontologists Dr Ashok Sahni and Suresh Srivastava,
Illustrated fact sheets about the dinosaurs discovered in the Indian subcontinent, and
An interview with the Dinosaur Princess of India - Aaliya Sultana Babi.

So get ready for a fantastic journey as we bring to life dinosaurs from 66 million years ago!

About The Author

Vaishali Shroff is hard to find at times. She s generally trapped inside one character or another, in one mysterious place or another. And when her strangely wired brain spews out characters and stories and there is nothing she can possibly do to hide them anymore, she writes. Her books include the multilingual, NCERT and CBSE recommended, Raindrops (longlisted for the Crossword Book Award 2013), Ari by Tulika Publishers, and The Missing Bat by Pratham Books. She represents India as an author for an Asia-wide reader series published by Oxford University Press, Asia Education. Her stories (both fiction and non-fiction), poetry, and articles have been featured in magazines, anthologies, school text-books, and children s readers across leading publishing houses. The Fantastic Journey of Padma and Bluethingosaurus is her first title with HarperCollins Publishers India. You can write to her at vaishali.shroff@gmail.com