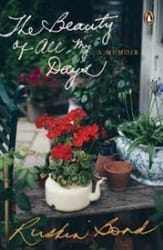 The Beauty of All My Days: A Memoir (Hardcover)
3 Views
|
Verified on 24/06/2019
Product details:
About The Book
Ruskin Bond, India s most loved author, is known for his innumerable stories,essays, poems and novels. A wordsmith, his life, work and philosophy opena window to a myriad world where solitude sits by tranquillity to ruminatetime now and then. In The Beauty of All My Days, Ruskin opens a window tohis relationships: his friends, his love-unsaid and unrequited, his parents difficult marriage, his passage to England, his meeting with Diana Athilland the making of his first book The Room on the Roof and many otherjourneys-real as well as imaginary-that continue to remain untold andtherefore unknown. Oneiric and candid, this memoir-with the rarest ofphotographs-is going to be one of the most sought-after books of ourtimes.
About The Author
Ruskin Bond is one of India s best-loved writers, who has written over 500short stories, essays and novellas, and more than forty books for children.
He won the Sahitya Akademi Award in 1992, the Padma Shri in 1999 andPadma Bhushan in 2014.