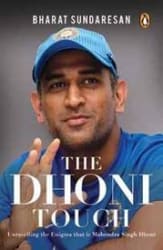 The Dhoni Touch (Paperback)
0 Views
|
Verified on 24/06/2019
Product details:
About The Book
For over a decade, Mahendra Singh Dhoni has captivated the world ofcricket and over a billion Indians with his incredible ingenuity as captain,wicketkeeper and batsman. Bharat Sundaresan tracks down the cricketer sclosest friends in Ranchi and artfully presents the different shades ofDhoni-the Ranchi boy, the fauji, the diplomat, Chennai s beloved Thala,the wicketkeeping Pythagoras-and lays bare the man underneath. Hediscovers a certain je ne sais quoi about the man who has a magical abilityto transform and elevate everything which comes into his orbit-the DhoniTouch.
Funny, candid, and peppered with delicious anecdotes, The Dhoni Touchreveals an ordinary man living an extraordinary life.
About The Author
Bharat Sundaresan is an associate editor at Indian Express.