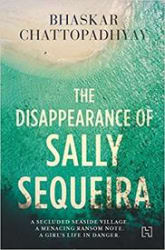 The Disappearance of Sally Sequeira (Paperback)
0 Views
|
Verified on 24/06/2019
Product details:
About The Book
Those closest to you often have the most to hide.
With its pristine beaches, clear turquoise waters and an ancient lighthouse towering over it, the picturesque hamlet of Movim in Goa seems like the perfect holiday spot for detective Janardan Maity and his friend, Prakash Ray. But when the father of a local teenage girl receives a letter asking for a large sum of money in exchange for his daughter, Maity and Prakash find themselves in the thick of an unlikely mystery. For they discover that the girl has not been kidnapped at all, and is in fact still safe and sound in her house.
As they begin to investigate, the duo realizes that the residents of the tiny village - a popular young priest; a retired teacher; an indiscreet ex-sailor; and a god-fearing old widow - are not what they seem. And, of course, there s Sally Sequeira - the frail and shy girl who keeps to herself, but steps out onto the beach in the night to dance to tunes her father plays on his piano.
What truth does the village of Movim hide? Who is the mysterious man that Sally has been seen with recently? And how will Janardan Maity solve a crime that has not yet been committed?
About The Author
Bhaskar Chattopadhyay is the author of three novels, Here Falls the Shadow, Patang and Penumbra. He has also written and edited a bestselling anthology of short stories, 14: Stories that Inspired Satyajit Ray, and has translated the works of several Bengali writers such as Rabindranath Tagore and Tarashankar Bandyopadhyay. He lives in Bengaluru with his wife, Sweta, and sons Ishaan and Emon.