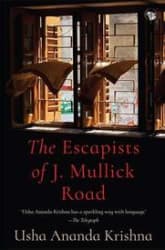 The Escapists of J. Mullick Road (Paperback)
1 Views
|
Verified on 17/06/2019
Product details:
About The Book
In the aftermath of a bizarre confrontation with Kalol Mondal-a small-timehustler and Party goon-Pinaki Bose, a timid Bengali babu, bumbles into the ambitof the savagely brilliant architect, Biren Roy. Dazzled by Biren s breadth of visionand utter contempt for the conventional, he commissions him to design a countryhouse-committing the whole family s savings to it. But Biren, paralyzed by his grandideals and his passion for perfection, is slowly sinking into a drunken torpor. AndPinaki, ignorant of the Party s involvement in all land deals, must endure not justKalol Mondal s ominous presence while buying his plot, but more worryingly, hisinfatuation with Pinaki s young daughter.
Set in the bleak Communist Calcutta of the 1980s,The Escapists of J. Mullick Road is awry meditation on a fabled city in physical and moral decline. Usha Ananda Krishna ssubtly witty but compassionate take on the disparate lives that entwine over thebuilding of a house is a tour de force of modern literary writing.
About The Author
Usha Ananda Krishna graduated from the School of Planning and Architecture,New Delhi and worked as an architect in Bangalore and Kolkata. In 1980 she beganwriting advertising copy, interspersing the two careers for many years. Her firstnovel A Turbulent Passage was published in 1995, followed in 2009 by Fallout, a familydrama written in the mordantly witty style that characterizes her work. Her interestsare reading, architecture and contemporary art.