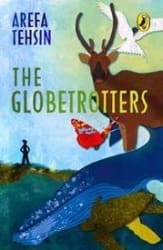 The Globetrotters (Paperback)
2 Views
|
Verified on 24/06/2019
Product details:
About The Book
The call of the wildHudhud is horrible to everyone. He polishes off his classmates lunches,plays cruel pranks on his teachers and troubles innocent creatures. Untilhis strange new history teacher decides to set him straight.
The lesson? A curse! Now Hudhud must roam the vast earth . . . with-and as-the greatest migratory animals. His goal? To find the answer toall wrongs. And so begins Hudhud s remarkable journey: as a blue whalecalf separated from his mother in the deep; as a trusting caterpillar whobefriends a hunting spider; as a competitive caribou on a perilous trek; asan Arctic tern too scared to fly . . .
But fly across the world he must, if he hopes to ever return home. FollowHudhud on this surreal trip, through the Arctic Ocean and the SaharaDesert, among fragrant flowers and tall grass, and find out all about theinner lives of some majestic animals and the wonders of the wild.