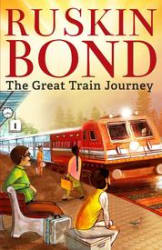 The Great Train Journey (Paperback)
0 Views
|
Verified on 16/06/2019
Product details:
About The Book
The first time I saw a train, I was standing on a wooded slope outside a tunnel, not far from Kalka. Suddenly, with a shrill whistle and great burst of steam, a green and black engine came snorting out of the blackness... \"A dragon!\" I shouted. \"There s a dragon coming out of its cave!\"
The charm of travelling by a train as it speeds its way out of a tunnel or a jungle and passes through nondescript villages and towns is unmatched. There also exists a joyful curiosity in unfolding the mysterious lives and destinations of its passengers.
Ruskin Bond has been writing tales about the hinterland for decades, but this is the first time his stories revolving around trains and railway stations of small-town India have been brought together in a single collection. Classics such as The Eyes Have It and The Night Train at Deoli rub shoulders with tales of big cats taking refuge in railway tunnels and strangers who strike up a friendship while waiting at a platform.
So, hop on and allow one of India s greatest storytellers to steer you through The Great Train Journey!
About The Author
Ruskin Bond is known for his signature simplistic and witty writing style. He is the author of several bestselling short stories, novellas, collections, essays and children s books; and has contributed a number of poems and articles to various magazines and anthologies. At the age of twenty-three he won the prestigious John Llewellyn Rhys Prize for his first novel, The Room on the Roof. He was also the recipient of the Padma Shri in 1999, Lifetime Achievement Award by the Delhi Government in 2012 and the Padma Bhushan in 2014.
Born in 1934, Ruskin Bond grew up in Jamnagar, Shimla, New Delhi and Dehradun. Apart from three years in the UK, he has spent all his life in India, and now lives in Landour, Mussoorie, with his adopted family.