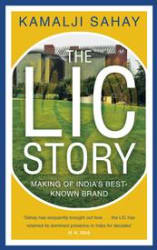 The LIC Story (Hardcover)
5 Views
|
Verified on 17/06/2019
Product details:
About The Book
What does LIC stand for? Is it a security provider or a common man s savings mobilizer? A mere money lender or a nation builder? Is it like any other PSU - an employment generator - or has it grown into the way of life of almost every Indian? LIC is all of these rolled into one!
From being called the Jewel in the Crown of India to being synonymous with the insurance industry, the Life Insurance Corporation, has made a place in every household of India. In more than 60 years LIC has not only gained the trust of the public but in its many ways, LIC is ahead of several global leaders in the insurance industry.
The book, The LIC Story: Making of India s Best-known Brand, is an account of this extra ordinary organization through the eyes of Kamalji Sahay who joined LIC as a young professional in 1977 and saw it sail through choppy waters for three decades when he served as their Executive Director. This book covers the details of the most significant events, people and operational dynamics which the author experienced across the remotest offices or even at the headquarters of LIC.
Full of interesting anecdotes, The LIC Story takes us on a fascinating ride into this mighty organization from an insider s perspective.
Kamalji Sahay has eloquently brought out how by simply winning trust of the people, the LIC has retained its dominant presence in India for decades.
H. K. DUA, Former Editor of The Tribune, The Indian Express, The Hindustan Times, Ambassador and Member of Parliament
Given the controversy over LIC investing in PSU stocks to bail out the disinvestment programme, and now even buying IDBI Bank, a book that addresses these is timely.
SUNIL JAIN, Managing Editor, The Financial Express
This book is a must-read for anyone managing a public-sector enterprise. Sahay takes his readers through an inspiring journey of LIC prior to as well as during post-liberalization with his highly insightful anecdotes . . . Read this book-and apply these insights to your own managerial experiences.
D. K. MEHROTRA, Former Chairman, LIC of India
Kamalji Sahay narrates in conversational style the story of LIC, along with his personal journey of starting as an entry level officer to rising to the top management position of Executive Director. This book will be an interesting read for the people who wish to know about the genesis and growth of financial services in India.
JAYADEV M, Professor, Indian Institute of Management-Bangalore
About The Author
Kamalji Sahay is a renowned business leader in the life insurance industry. He has been the founder Managing Director and CEO of Star Union Dai-ichi Life Insurance, a Joint Venture of Bank of India, Union Bank of India and Dai-ichi Life of Japan. He is also an author, a prolific speaker and a leading columnist with The Financial Express. His views are published monthly in the column Embedded Value , The Financial Express. His first book, Contemporary Essays on Life Insurance, was published in 2014.
He served the Life Insurance Corporation of India for more than thirty years. Sahay s views on life insurance industry in India are widely read and followed by a number of policymakers and professionals in the area.