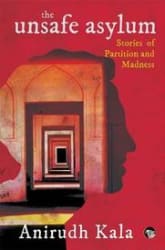 The Unsafe Asylum: Stories of Partition and Madness (Paperback)
Views
|
Verified on 15/07/2019
Product details:
About The Book
After Partition, India exchanged the Muslim patients in its Mental Hospitals for theirHindu and Sikh counterparts in Pakistan. These interlinked short stories explore theimpact of this decision, together with the ongoing consequences of Partition. RuldaSingh and Fattu (Fateh Khan), patients at Lahore s Mental Hospital, are separated,possibly for ever. Years later, Prakash Kohli, an Indian psychiatry student, hearsRulda s account of his journey to India, with its casual official cruelty and unexpectedtenderness. When he visits Lahore, Prakash discovers the story of his own birthin 1947, forms a lifelong friendship with a Pakistani colleague-and realizes thatnobody knows why so few mental patients survived the exchange.
As Prakash becomes curious about this, he realizes that Partition continues to havea profound effect on the psyches of his patients. A middle-aged woman passes ona delusion of being chased by murderous mobs to her children. A young boy fromSimla is convinced that Benazir Bhutto, the Pakistani President s daughter, loves himand they have discussions in his dreams every night. And Prakash, seeing Punjab go upin flames under a militant call for another land of the pure, wonders if Partitions canhappen again.
About The Author
Anirudh Kala lives in Ludhiana and is a psychiatrist. His interests include studyingthe lasting effects of Partition in both India and Pakistan. He has been instrumentalin cross-border exchanges between the two countries among mental healthprofessionals and many of his stories result from his own visits to mental healthinstitutes in Pakistan. He has published several short stories. He likes Urdu poetry,hiking and semi-classical Indian music.