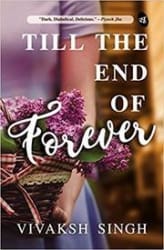 Till the End of Forever (Paperback)
1 Views
|
Verified on 24/06/2019
Product details:
About The Book
The past is always mysterious. It neither leaves completely, nor stays fully. Whowould know it better than Ayaan. He was its victim. And so was Avani. Whenthese two crumbled souls met, they realized in their togetherness that only abroken piece can complete another. Together, they start fighting the pain oftheir past, feeling the bliss of the present and appreciating their lives.
But just when they thought things were perfect, life played its cards.
Ayaan, who was trying to put life s pieces together, broke down when he washeld responsible for a closed one s murder.
And Avani... well, her life was going to take such sharp turns that she wouldcrave for death.
Alas, this was just the beginning of what destiny had planned for them!
Will Avani wait for the scars to heal or will she fight with her bruised soul? Whydoes the truth keep going deeper as she chases it?
Deeply sensitive and brutally thrilling, Till the End of Forever is a romanticthriller that takes a dig in the dark sides of god, nature of human pain, power ofselfless care, and proves how true love can make you live till the end of forever.
About The Author
Vivaksh hails from an unrecognized town of Rajasthan and studied miningengineering from Udaipur. A seeker of deep conversations and lover of lateUrdu poet Jaun Elia, he spends most of his time travelling and writing webseries, articles and manuscripts.