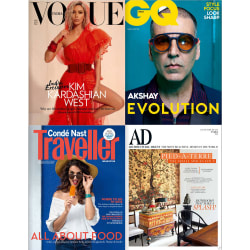 Vogue+ GQ+ Conde Nast Traveller+ Architectural Digest,(English 1 Year)
7 Views
|
Verified on 24/06/2019
Number of Issue Per Year:12+12+6+6=36
Edition: Indian
Catgory:Fashion and lifestyle
Product details:
Vogue (Number of Issue Per Year: 12)
Vogue is the fashion authority. Setting the standard for over 100 years has made Vogue the best selling fashion magazine in the world. Each issue delivers the latest in beauty, style, health, fitness and celebrities and your subscription will include the must-have Spring and Fall Fashion editions. Before it s in fashion, it s in Vogue!
GQ (Number of Issue Per Year: 12)
GQ helps you look sharp and live smart. Each issue brings you revealing sports profiles, intimate photos of today s hottest up & coming actresses and models, tips on fine food & drink, sex, politics, fashion and grooming advice, The Style Guy s answers to your questions and so much more!
Conde Nast Traveller (Number of Issue Per Year: 6)
Conde Nast Traveler requires its writers to travel anonymously and pay their own way. This assures that you get credible, truthful information. With Conde Nast Traveler as your guide, you ll discover the best islands, cities, spas, castles, and cruises. Your subscription also includes our must-have Gold list, Hot List and Reader s Choice issues filled with the world s best places to eat, drink, shop and play.Whether you find it in Moorea s emerald lagoons or sunning on the French Riviera, Conde Nast Traveler takes you to your own personal paradise.
Architectural Digest (Number of Issue Per Year: 6)
The definitive design magazine, Architectural Digest takes you inside the world s most beautiful homes. With stunning photography and the best writers, it is the premier interior design magazine, featuring classic and contemporary styles. Your subscription includes the annual special issues: Before and After and Designers Own Homes.
Features
| | |
| --- | --- |
| Frequency | 36 Issues in a Year |