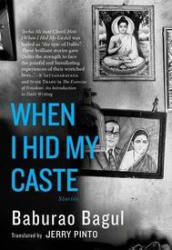 When I Hid My Caste (Hardcover)
0 Views
|
Verified on 24/06/2019
Product details:
About The Book
Baburao Bagul s debut collection of short stories, Jevha Mi Jaat Chorli Hoti (1963),revolutionized Dalit literature, bringing to it raw energy and a radical realism-arefusal to understate or dress up gritty, brutal reality.
Through the lives of people on the margins, Bagul exposed the pain, horror and rageof the Dalit experience. The unnamed young protagonist of the title story risks his lifeand job, and conceals his caste from his fellow workers in the hope of bringing aboutsocial change. Damu, the village Mahar, demands the right to perform a religiousmasque-a preserve of the upper castes-thus disrupting the village order. JaichandRathod revolts against his parents wishes and refuses to take up the caste-enforcedtask of manual scavenging. Years of repressed maternal love begins to resurface when,in the face of death, Banoo calls out to her estranged son. And behind Savitri s desirefor revenge lies the gruesome pain she suffered at the hands of her husband.Utterly unsparing in its depiction of the vicious and inhumane centuries-old castesystem, this landmark book is now finally available in English, in a brilliant newtranslation by the award-winning author and translator Jerry Pinto.
About The Author
Baburao Bagul (1930-2008) was born in the Nashik district of Maharashtra. Ashort-story writer, poet and essayist, he is regarded as a pioneer of modern Marathiand Dalit literature. He was among the leading lights of the radical Dalit Panthersgroup, together with Namdeo Dhasal and Arun Kamble. His best known works,in addition to Jevha Mi Jaat Chorli Hoti, are Maran Swasta Hot Ahe, Sud and AmbedkarBharat.